LEGO® Technic™ Car Transporter
LEGO fans aged 11 and over will love learning the basics of engineering and mechanics with this authentic and accurately detailed LEGO Technic 42098 Car Transporter set. This amazing replica model features realistic play capabilities and functions to enhance any immersive  play experience. 
The features include moveable car decks that can be raised and lowered at your command. Raise and lower the rear ramp for smooth and easy navigation to the upper and lower levels, lock vehicles into position for safe transportation, and tilt the driver's cab to access a detailed V6 engine with moving pistons.The authentic details allow you to feel truly in control and enjoy the full capabilities of this incredible set.
Rise to the challenge and build this 2,493 piece set, and explore its functions for a truly realistic engineering experience. The set even comes with a blue car with working steering and V8 piston engine and is compatible in scale with the 42093 Chevrolet Corvette ZR1 (sold separately). You can truly assume the role of engineer and build on your knowledge and skills. 
The classic red, grey and black colour scheme of the set is complemented with custom stickers for additional detailing, encouraging the development of planning and creativity skills. This incredible model is a 2-in-1 vehicle that you can rebuild to create the LEGO Technic Truck and Show Cars model. Hours of endless fun await! 
This amazing LEGO Technic 42098 Car Transporter set is just one of the challenging builds you can find within the LEGO Technic series. Originally named the Expert Builder series, the Technic series launched in 1977 and was designed with challenge and skill in mind. 
The incredible sets can be built up special-piece-by-special-piece, and the fun can continue long after the last brick has been secured into its place. Immerse yourself into the action and enjoy the features of Technic that make it so much more functional than regular brick sets.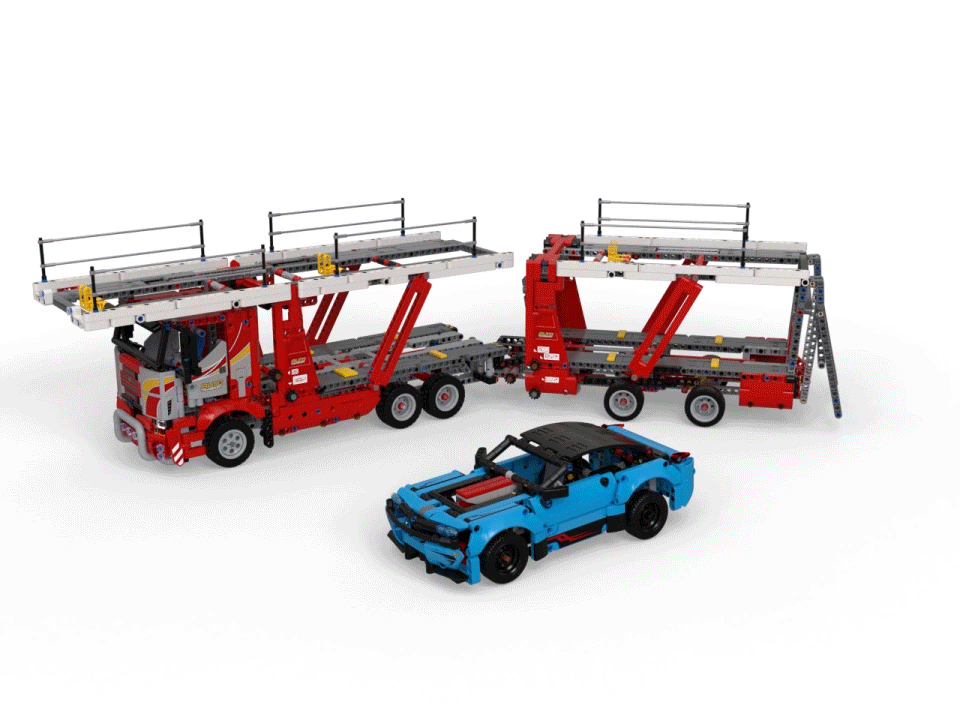 Features:
This incredible Car Transporter model features adjustable car decks and rear ramp for loading and unloading, lock for securing vehicles during transportation and a tilting driver's cab that gives access to a detailed V6 engine with moving pistons.
Model includes a blue car featuring working steering and a V8 piston engine.
Features a classic red, grey and black colour scheme, alongside a detailed sticker sheet for additional creativity.
Lower the deck, drive on board, apply the transportation lock and set off on your journey.
This LEGO® Technic truck set introduces LEGO builders to engineering.
Features realistic features and functions for hours of play and encourages design exploration.
The Car Transporter set is compatible in scale with the LEGO® Technic 42093 Chevrolet Corvette ZR1 (sold separately) for extended play opportunities.
The Car Transporter set measures over 8" (22cm) high, 33" (86cm) long and 5" (13cm) wide.
The additional Blue car measures over 3" (8cm) high, 10" (27cm) long and 4" (12cm) wide.
The LEGO® Technic Truck and Show Car set measures over 5" (14 cm) high, 34" (87 cm) long and 5" (15 cm) wide.
Number of Pieces:

 

2493
Age: 11+