JIA - Companion, Non-stick Wok 32cm
We have run out of stock for this item.
---
Companion, Non-stick Wok (32cm) Red Limited Edition
Made with aluminum brass which features fast heat transfer, with a larger and deeper cooking area, combined with a new red and black colormatching.
Upgrade to Greblon C3+PEEK non-stick coating with double durability. PFOA & PFOS non-stick coating, the JIA Companion non-stick cookware is perfect for novice cooks who just want to get into cook or anyone who wants a cookware set that is easy to use and easy to care for. The unique diamond shaped handle fits well in your hand. This cookware set is truly your best cooking companion.
Product Advantages:
1. Red high temperature-resistant powder coating with black upgrade non-stick coating makes cooking more delicious.
2. The family of 4~5 people can easily cook three meals.
3. Rivetless interior & No rolled edges. No residueof grease, no drip and easy to clean.
4. Compatible with induction stove, gas stove, electric stove and ceramic stove.
5. Tempered glass lid is included and makes cooking easier than ever.
6. Aluminum has an excellent thermal conductivity that saves energy and time when cooking.
7. Unique diamond-shaped handle fits well in your hand
Bakelite handle: Insulated and heat-resistant.
Diamond-shaped handle: Better and firmer grip.
Featuring an assisting handle: Comfortable and effortless, easy to cook and serve.
Handle with hanging hole: Maximizing wall space to create an organized and tidy kitchen
8. From the two-layer to the unique GREBLON® C3+PEEK - our products set benchmarks with regard to non-stick properties, abrasion resistance and corrosion protection.
3-layer with ceramic reinforcement.
Extremely long-lasting.
Excellent abrasion resistance.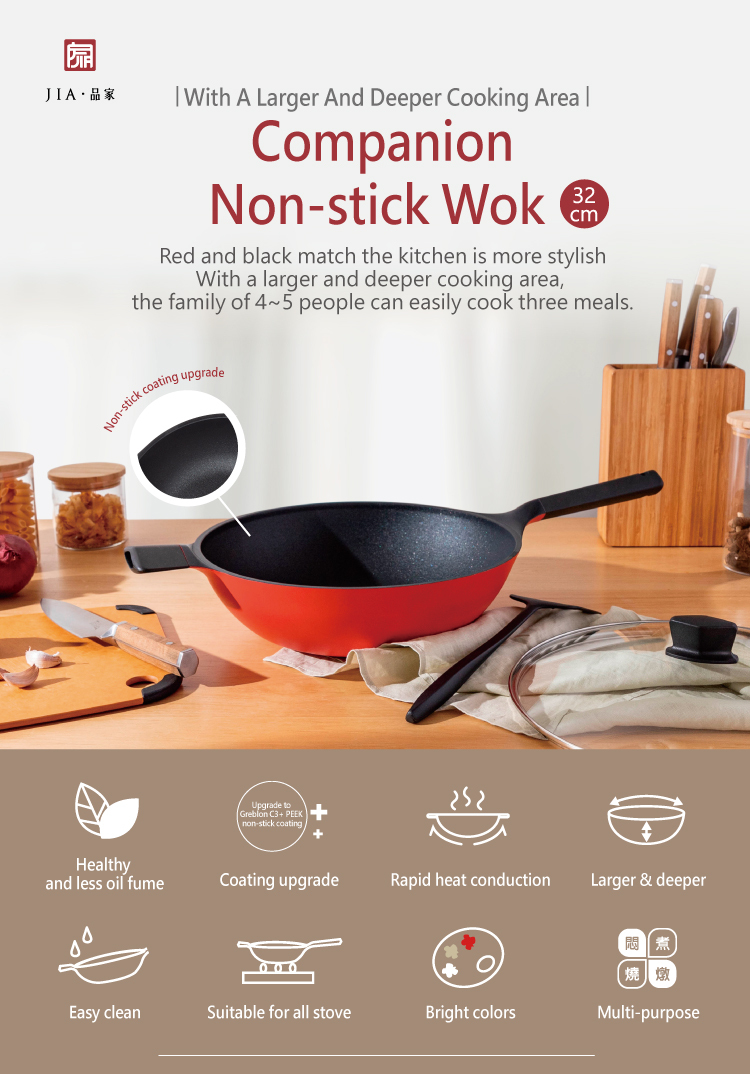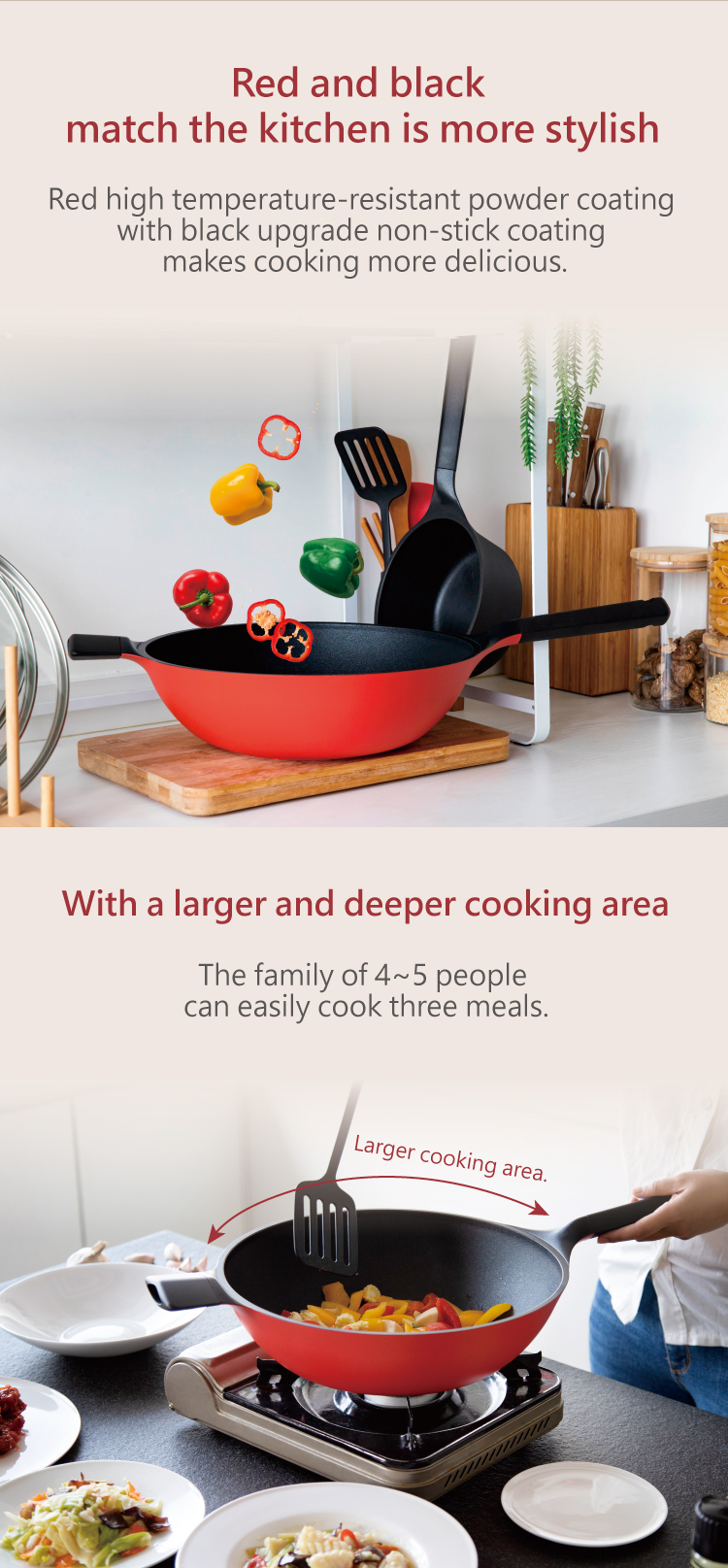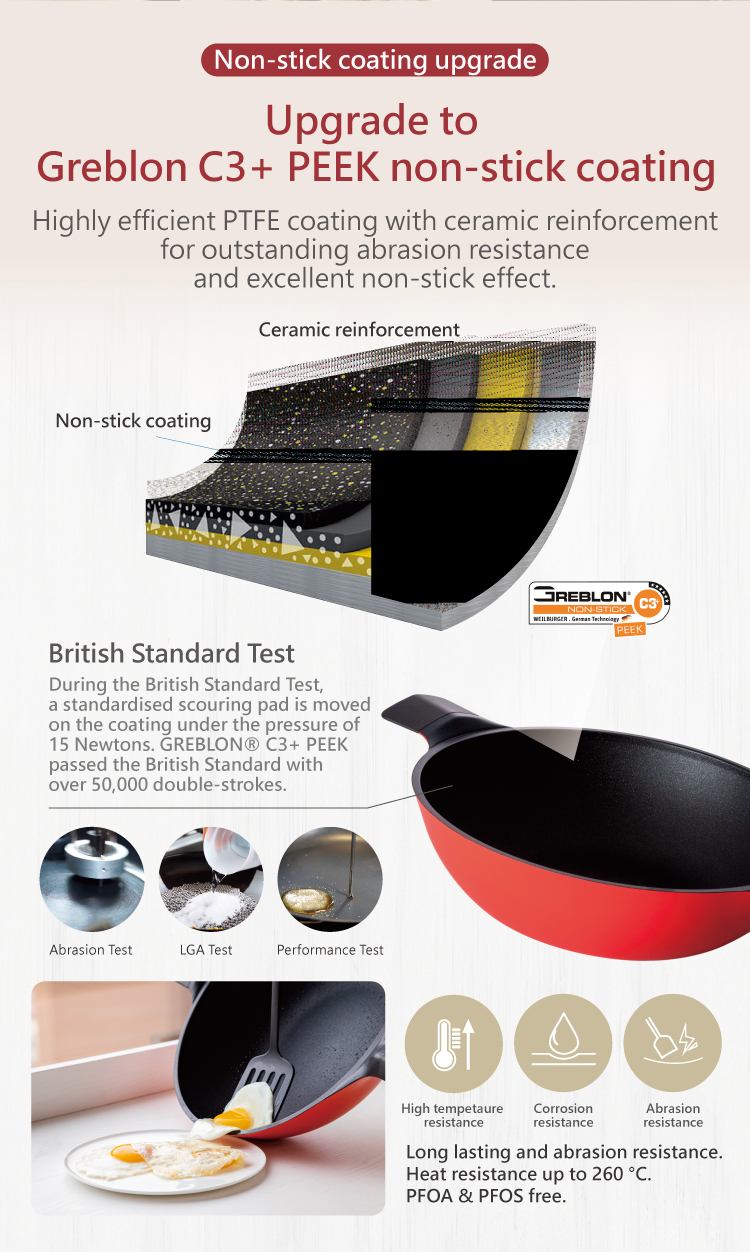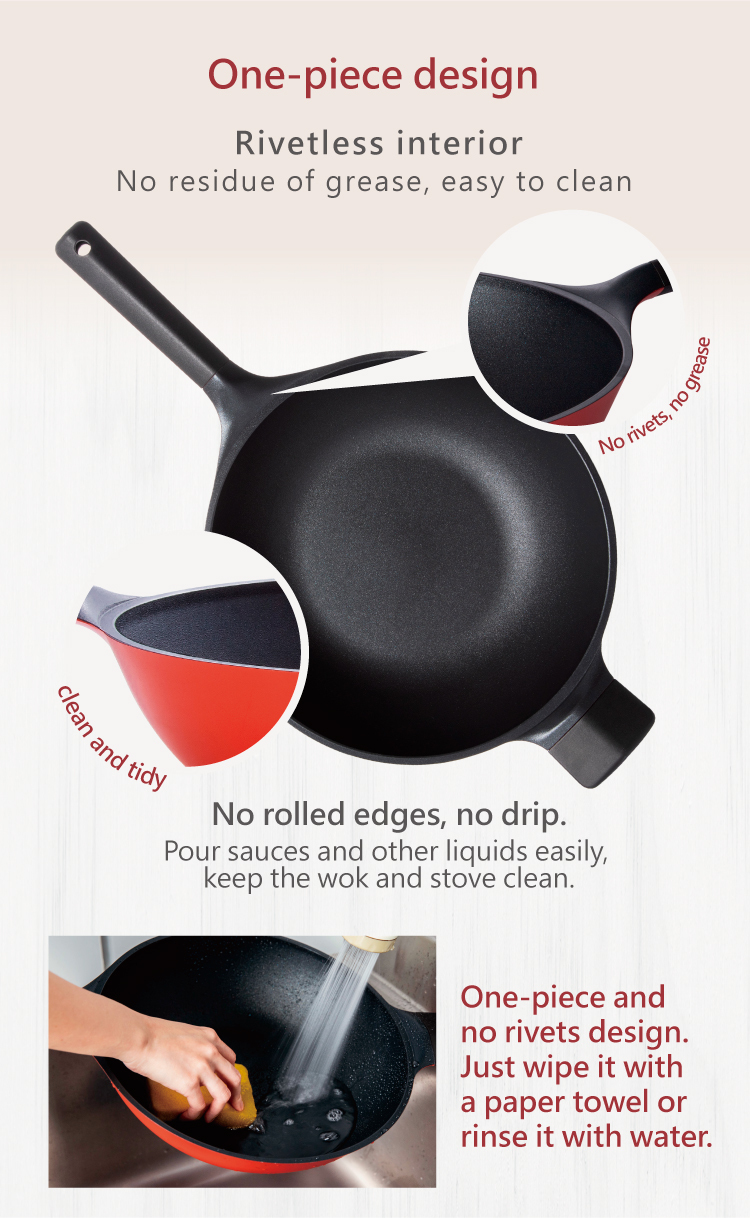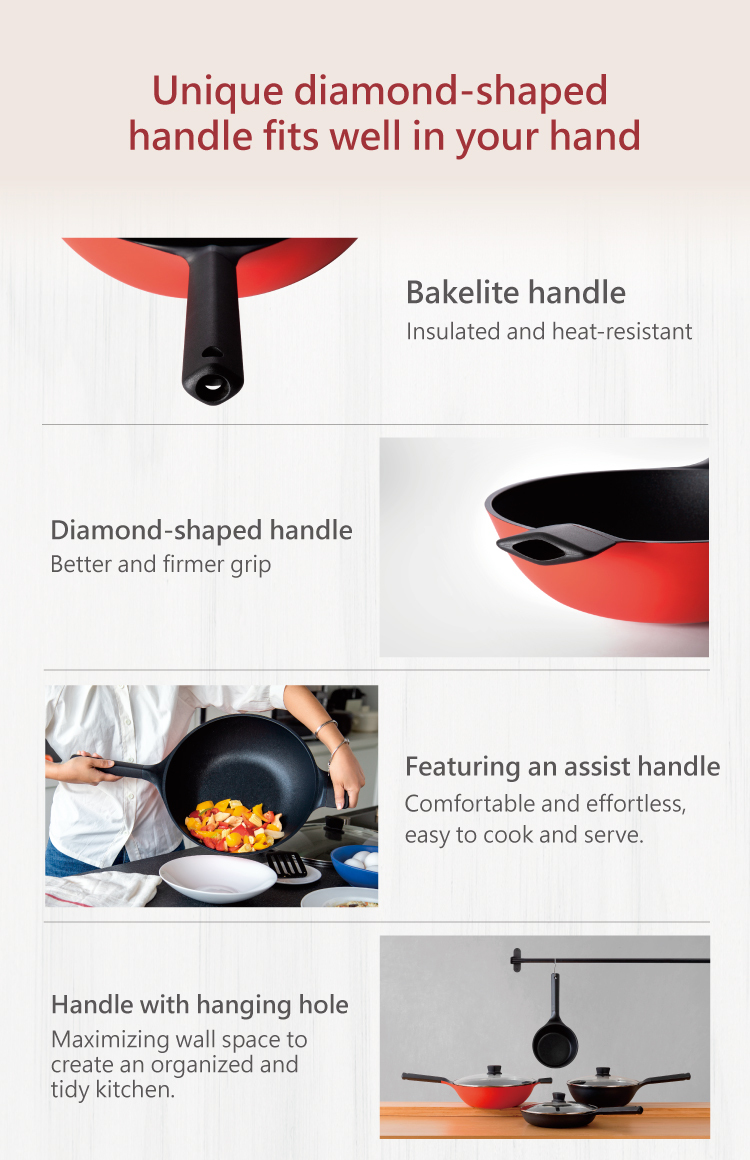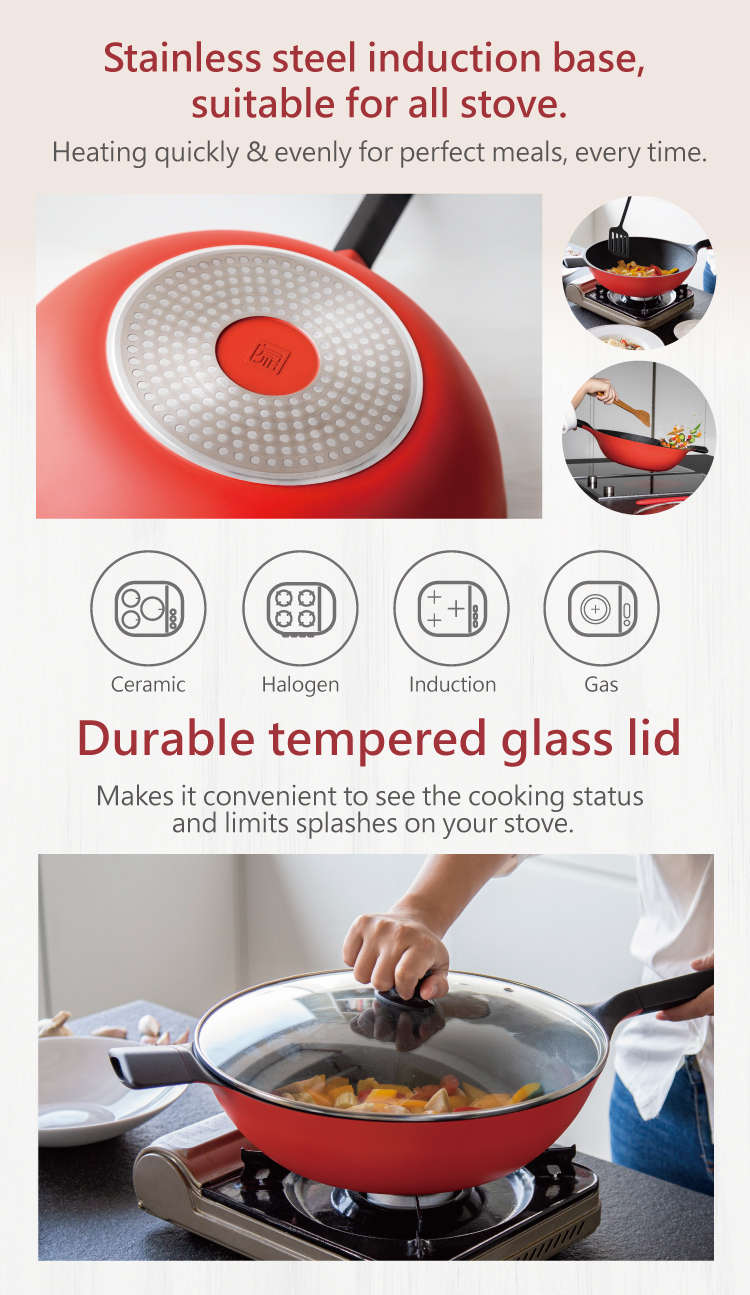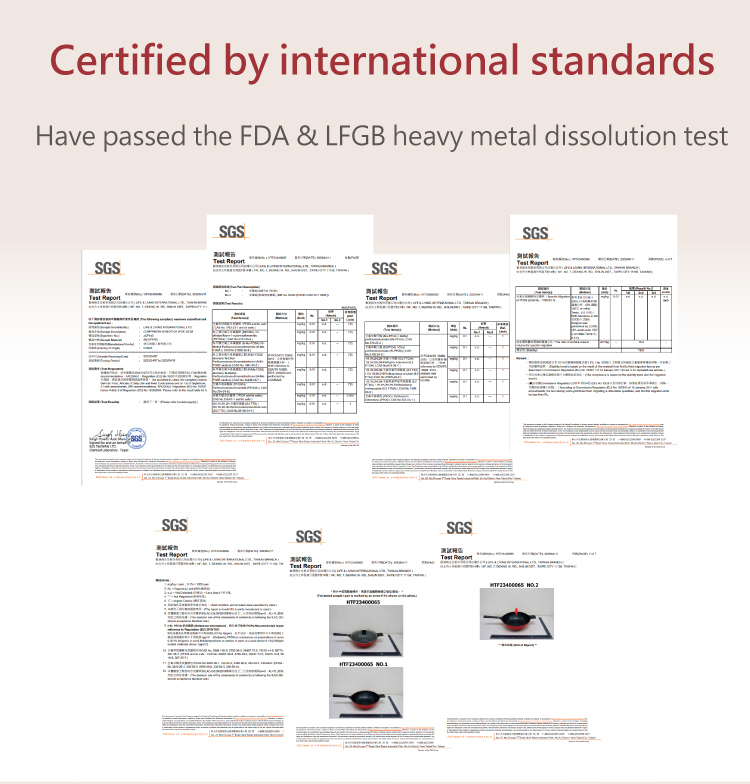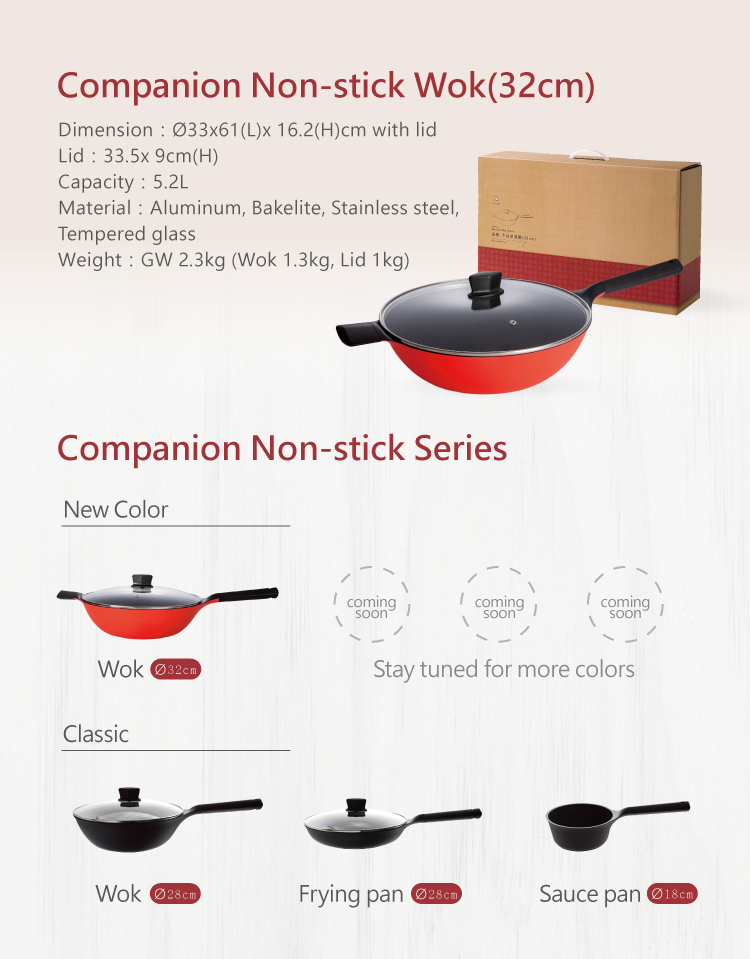 Certified By International Standards:
Have passed the FDA & LFGB heavy metal dissolution the test.
PFOA & PFOS free.
Product Specification:
Dimension: 33x61 (L)x 16.2 (H)cm with lid/Lid: 33.5x9cm (H)
Capacity: 5.2L
Material: Aluminum, Bakelite, Stainless steel, Tempered glass
Weight: GW2.3kg (Wok 1.3kg,Lid 1kg)
Use & Care:
For first time use, please fill the wok with water to 80%, bring it to a boil for 5 minute. Dispose the water and coat the wok with thin layer of cooking oil. Allow the wok to cool down and rinse with water. Clean thoroughly.
Use low to medium heat for best cooking result.
Allow the cookware to cool down before washing with warm water. Do not rinse with cold water while it is still hot. The non-stick coating may be damaged.
Please use with JIA Monolithic utensil sets, wood, silicone or nylon based utensils.
Not dishwasher safe. Do not use with oven or microwave.
Please lift your cookware. Do not drag across the induction or ceramic stove to avoid scratching.
Do not use metal brush or stainless steel utensils to avoid damaging the surface.
Keep the flame inside the bottom of the wok.
Do not store your food inside the wokfor along period of time.
Clean with sponge and soft cloth to avoid damaging the coating.
Please be careful of the vent hole on the glass lid, as it may release hot steam while cooking.